De Mini Cooper S werd wereldberoemd na het winnen van de Rally van Monte Carlo in de jaren 1964, 1965 en 1967. Ook in 1966 bereikten de kleine scheurijzertjes als 1e, 2e en 3e de finish maar besloot de Frans jury aan de hand van de gebruikte verlichting op de Mini tot diskwalificatie. Daarbij ging de overwinning naar het Franse(!) Citroën. Sindsdien heeft het model altijd een hoofdrol gespeeld in de autosport.
MINI Cooper S
Deze MINI Cooper S met meer dan 138pk wordt in eigen land te koop aangeboden door Catawiki en is waarschijnlijk een van de meest spectaculaire straatlegale exemplaren van de hot hatch die je op dit moment kan kopen. Kosten noch moeite zijn bespaard om de ultieme MINI te bouwen. De auto werd in september 2000 voor het eerst op kenteken gezet als Rover Mini Cooper S Knightsbridge, gedurende de jaren 2012 tot en met 2015 is er gewerkt aan de conversie door Cooperworld. Daarna is er slechts 2.500km mee gereden.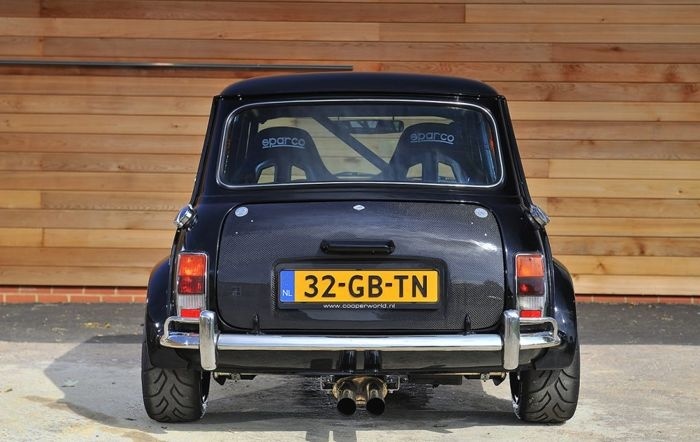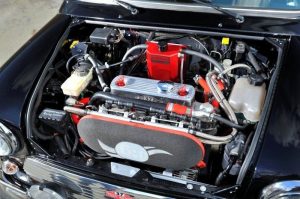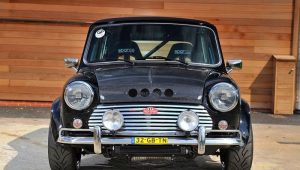 De aanpassingen betreffen:
Specifics:
Carbon fibre bonnet with ventilation holes and stainless steel grid.
Carbon fibre trunk lid with Dzus fasteners.
Stainless steel bumpers and over-riders with corner bars.
Dual fuel tanks (Cooper S).
Two-tone solid and matte black paintwork (4 layers).
Engine:
MED 1380cc engine block.
Wedged, cross-drilled and nitrated crankshaft.
Med/Arrow steel H-profile connecting rods.
Omega pistons with 7cc dish (forged).
Piper BP285 camshaft.
MED 7-ports cylinder head, trackday spec.
MED full roller rockers
Dry Deck!
Jenvey throttle bodies.
Jenvey fuel rail.
Faced fuel pressure regulator.
330 CC Bosch Pico injectors.
ITG filter and aluminium backplate.
MED aluminium inlet chalices.
Van Kronenburg Motorsport KMS MD35!
Programmable engine management system.
KMS dashboard with display.
KMS Lambda controller.
KMS idle controller.
MAP sensor.
KMS wiring harness integrated into original wiring.
Trigger wheel on MPI pulley.
Remote oil filter.
Specially designed oil take-off housing with integrated oil temperature sensor.
Setrab Pro-Line slimline oil cooler.
Goodridge push-on oil pipes and couplings.
Carter ventilation with custom-made oil separators.
Aluminium Mocal oil catch tank.
Specially designed oversized aluminium MPI radiator.
Silecone hoses, adapted to the new engine.
Compact Nippon Denso alternator.
BMW M3 multi-belt
FIA main power switch.
Paddy Hopkirk valve cover and T-bars.
Maniflow big-bore LCB exhaust manifold.
Fletcher stainless steel exhaust system with single shock absorber.
Transmission:
MED straight-toothed gearbox and drop gears.
Quickshift gear shift.
Pre-verto clutch.
Heavy pressure group.
Light flywheel.
Steel back plate.
Cross-pin differential.
44:1 end transmission.
Suspension:
Hi-Lows in the front and rear.
Polyurethane bushings all around.
GAS shock absorbers (adjustable).
Adjustable tie rods.
Negative camber arms.
Adjustable camber brackets in the rear.
KAD torque stabilisers in the front and rear.
Brakes:
8.4-inch ventilated discs.
Aluminium KAD four-piston calipers, red anodised.
EBC greenstuff brake pads.
KAD disc brake conversion in the rear, red anodised.
Goodridge brake lines all around.
Rims & tyres:
Ultralight 7 × 13″ competition rims, black/red.
Additional set Ultralight 7 × 13″ rims, new.
Set of 4 x 175/50×13 Yokohama A048R semi slicks.
Set of 4 x 175/50×13 Yokohama rain tyres.
Body:
Completely restored!
New Heritage doors were mounted.
Also with a new Heritage front.
A new paravane was mounted.
It was painted with 4 layers of DUPONT component paint.
The inside was completely painted.
The engine compartment and trunk were also completely painted.
Interior:
Safety Devices roll cage.
Sparco EVO2 bucket seats.
Schroth five-point harnesses.
Stainless steel panel KMS CAN display
The upper part of the dashboard, door cards and clutch cover are all made of leather.
Paddy Hopkirk gearshift and quick shift.
Black headlining.
Demountable push-on Sparco suede leather steering wheel.
Aluminium handles and pedals.
FIA main power switch.
New black deluxe carpet set.
BMW motor-sport racing rear-view mirror with a width of nearly 25 cm (curved).
De kostprijs van deze enorme lijst aan modificaties betreft meer dan € 60.000! Het hoogste bod op het moment van schrijven staat op 16.000 Euro. (tekst specificaties via Catawiki.nl)
Deel hieronder je mening over deze MINI!